Being Online is Critical for all Business – Big and Small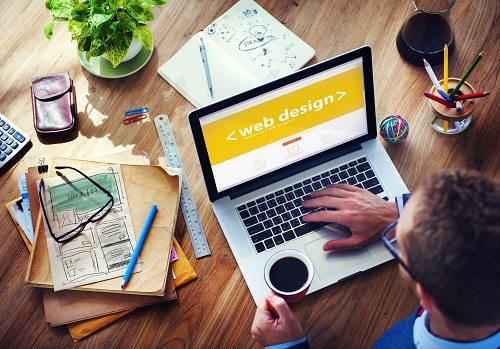 85% of Consumers Use the Internet to Find Local Businesses
– Search Engine Land
That statistic alone should be the impetus to getting your business online – TODAY!
As a business owner, if you don't already have a strong online presence, or any online presence at all, you owe it to yourself to take the first step for your business, and learn just a bit about the internet business world.
Why is this so imperative? Every year, every month, every day, the internet and online marketing are becoming more and more ubiquitous. And if you look, you'll notice that most your competitors are probably doing some type of online marketing of their own, the key element of any online marketing program being a website.
Each year the number of companies not online gets less and less, as businesses ranging from local dry cleaners and vacuum shops to painters and landscapers are going digital –most showing an immediate benefit.
Still not convinced? Well…..
Five Compelling Reasons for Getting Your Business Online
Expand your Market: More people find businesses or research products online or on their smartphones than they do reading ads in local newspapers. And the odds are great they are not just in your local neighbourhood if they find you online, so having a website definitely opens up the possibilities of expanding your geographic target market.
Also, with your bricks-and-mortar company, you will be generally limited to those individuals who can visit you at any given time, let alone find you. With a good website, you can literally have thousands of people visiting your website in any given day. Imagine the potential for your company, if you could expose your products and services to a potentially unlimited number of interested people.
24 Hour Availability: Having a website allows both current and potential customers to find out more about you, and your products or services. Now many businesses ranging from gas stations to fast food restaurants are open 24 hours, but most businesses aren't able to keep their doors open that much. And since the Internet never sleeps, your storefront never has to close if it's online. And if you operate an eCommerce website, then this opens up even more revenue earning possibilities. Your customers can order from you at any time of the day…or night.
Another benefit you – and your customers – get from having your business having a website is the ability to communicate directly back and forth. Inform prospective customers of special offers, new products and other company updates is just one of the numerous benefits of being online. Collecting emails and updating clients and prospects as the latest sales, or company updates is another direct benefit.
Improved Company Image and Customer Service: Having a website reassures people about the viability of your business by strengthening your brand. And remember, most people search online to find a new business, product or service. Be visible, be accessible – be online.
While this alone isn't enough to create a website and begin selling online, it is an important factor to consider. In today's digital world, most prospective clients wonder how serious you are about your business, and about providing good customer service — if you don't have a website. Even a website that is just a 'digital brochure,' showing your products and/or services, your location, an FAQ section, and contact information is expected at a minimum. Today, companies of all sizes and industries are establishing a successful online presence without having to overly extend themselves.
Cost Effective Marketing: Running ads in the local newspaper or doing direct mail pieces can be very expensive. Setting up a website and getting listed in local search results is relatively cheap. You can get your website up and running in just a week or two, and then begin reaping a significant return for a small investment in advertising in local online websites, Pay Per Click, social media campaigns and email marketing.
Protect Your Brand: Do you know what people are saying about your business online? Do you know what to do if someone has posted something damaging or an unscrupulous competitor has posted a website designed to damage your reputation? What happens if someone 'cybersquats' on your business name? You can deal with this ONLY if you have a website to help in building your online brand.
OK – I'm Going Online. But Now What?
For many business owners who've shunned the internet world, going online sounds just too complicated, risky or just too much work. But that's really not the case at all. With the right digital roadmap, it can be very simple and inexpensive.
You'll begin to reap the rewards of having an online presence, from lead generation and increased sales to improved customer service and protecting your brand.
And the beauty of the internet is that your prospective client(s) are just a click away.
Online Marketing is Essential – And Very Affordable
Marketing your business online is extremely affordable. The affordability of Internet marketing is one of many reasons why business owners are turning to the Internet for advertising, especially when you consider how many potential customers a business owner can reach with a simple online marketing campaign.
And much of this, you can do yourself. You could participate in industry forums, posting comments or articles, then link back to your website whenever appropriate. You can produce content, or run contests and collect emails. Just having up to date information on your products and services might be enough for people to give you their email addresses so that you can update them.
DIY: Doing It Yourself
So you can do your own Internet marketing, as it's not overly complicated. But at the same time, just like building anything, it's not a process in which anyone can excel without making attempts to learn more about the subject. Before looking at developing an internet marketing campaign, you should take some time and study some of the basic principles of online marketing. Fortunately for business owners, there is a plethora of very good material to learn from.
Another way of developing an internet marketing campaign is to do a little competitive analysis, studying successful Internet marketing campaigns of your direct or indirect business competitors. You can do this by entering relevant keyword phrases into Google and Bing, then studying the websites and deconstruct some of the lead generation applications of these high ranking businesses.
This can provide you with wonderful insight into what these business owners are doing right, then marry this with your own increased knowledge base. Things to consider include: banner ads, blogs/articles, social media activity and affiliate marketing programs.
The following two tabs change content below.
Having spent over two decades in the online marketing industry, Greg still works with some of the largest brands in the International sports betting marketplace, having developed and executed various marketing and communication programs. Greg comes from a media background, with formal training in broadcasting and print journalist at BCIT and Langara College respectively, then graduated from SFU. After working in sports media covering the Canucks, Lions and other local sports, Greg joined Motion Works, one of the first Internet-based companies in Vancouver. From there he found his way to the sports betting industry with a local software company. Greg is passionate about his family, golf, hockey, football, the Internet, and coaching minor baseball in Port Coquitlam, BC.
Latest posts by Greg Taylor (see all)